News
2018
This year I was very pleased, at the RSW, to receive the City of Glasgow College Award.
It was very interesting to be given a tour of that amazing building by Sandra Gunn and see where my painting will be hung. Their Art Foundation has a very interesting collection of art works from both their students and their Purchase Awards.
The building itself is such a beautiful space with tremendous facilities.
2017
I took part, with Janet Melrose, in an RSW "workshop" at this year's Annual Exhibition. As Janet and I walk and draw together during the winter we thought we would talk about this and show examples of our different approaches to the same subject. It has been a very interesting experience.
2016 Qingdao International Watercolour Biennale
I have been very pleased to be invited to take part in this watercolour exhibition. It has been very interesting taking part in this large exhibition and sending work of to China for the first time. The paintings that were sent were Shore Uncovered, Winter Beach and Winter Hill 2.
2016 Qingdao International Watercolor Bienniale Preview Exhibition [PDF]
August 2016
I discovered my friend Crawford Grier from school days was an underwater video cameraman and although now retired from sub-sea image making, he came out of the water to make this video for me. It was an interesting experience.
I found it strange to have to talk out loud about my work in the studio

Ann Wegmuller RSW RWS - A Walk in my Studio

Videography by Crawford Grier
Unbelievable Films 2016

Music - Pink Lemonade, Youtube Audio Library

Copyright
All Rights Reserved
Ann Wegmuller 2016
June 2013  
Last summer I took up my residency on Lewis and what a sunny experience it was. The weather was just beautiful so I was able to get out and have a real look at the land and South Lochs in particular. Since then I have been working on the painting sketches I did there.
I am usually interested in marks on the land made by people and was amazed to find so many layers of marks of human habitation going back to pre-history. Amongst the marks of modern day townships were traces of brochs, bee hive cells, wheel houses and black houses.
Although the scenery was stunning I was more interested in the circular forms of stone that were all about. This Residency has given me a tremendous amount of material to work from.
I am taking part in an exhibition in the Rendezvous Gallery in Aberdeen from:          
Saturday 8th June  –  22nd June 2013.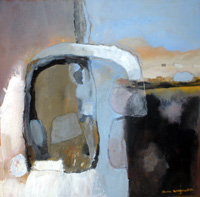 June 2012
 
The finished product with some fine poems by George T Watt, beautifully put together by Dorothy Lawrenson of Perjink Press.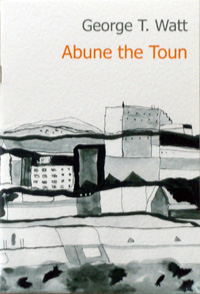 January 2012
I have been working on a book cover for a book of poetry for George T. Watt. Images of Dundee were requested, not at all my usual thing.
They have now been handed over to the graphic designer to make a selection. It will be very interesting to see the finished product.

November 2011 
I was very pleased last year to be awarded the Rendezvous Gallery Residency Award by the RSW.

I will be going to Lewis for five days to stay in Tigh Alasdair Ruaraidh, 1 Garyvard, an historic house in the South Lochs peninsular. Until 1930 there were no roads to the Lochs district of Lewis and all supplies came by boat and landed at the quayside next to the house. This house also became a centre for religious revival in 1938 with meetings held there till the  start of the Second world war.
Duane Meade, owner of the Rendezvous Gallery in Aberdeen had the house restored from dereliction and it is now a "comfortable residence for artists with an adjoining artists' workshop".
I will be going in August 2012, something tells me that five days will not be enough.
How I wish I spoke Gaelic!